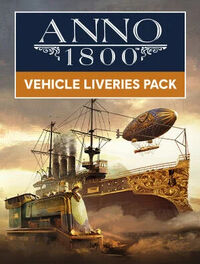 Vehicle Liveries Pack is the fourth Anno 1800 cosmetic DLC, it was released on April 6, 2021 for users of Amazon Prime. Later this year the DLC will be available for purchase for all owners of Anno 1800. The pack adds 34 new skins and models for vehicles present in the game: ships, airships and trains. All vehicles skins (including non-DLC ones) can be found here.
Official description
Rule in style and give your trusted fleet of vehicles a visual refresh with 30 new cosmetic skins for your ships, trains and airships.
New Content
2 Battlecruiser skins
2 Clipper skins
2 Cargo Ship skins
2 Command Ship skins
2 skins for the Imperial Command Ship (available to all players since the game's first anniversary)
1 Command Ship model variation
2 skins for the Command Ship model variation
2 Frigate skins
2 Gunboat skins
2 Ship-of-the-Line skins
2 Monitor skins
2 Schooner skins
3 skins for the train
3 skins for the Imperial Train (available to all players since the game's first anniversary)
1 train model variation
3 airship skins
1 airship model variation