Arcane: League of Legends - The Loop
Play Sound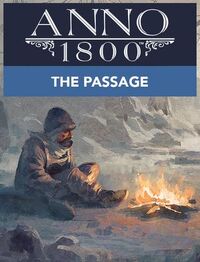 The Passage is the fourth Anno 1800 DLC and was released on December 10th, 2019. It is the third DLC of the Season 1 Pass. It adds:
A new polar region: The Arctic which contains snowy islands and massive glaciers, all stuck in a frozen winter wonderland.
Two new population tiers. Explorers and Technicians.
The need for Heating requires Arctic Settlements to be designed in a whole new way.
A whole new way to transport cargo. Take to the skies with Airships.
A Gas Power Plant with a bigger range and easier fuel transportation than Oil Power Plants.
A new storyline to follow, which fleshes out the world and brings its own rewards.
Official description
Dare you face the challenges of the Arctic? Venture to the edge of the world; conquer the most hostile of environments with a brand new heating system; build monumental hangars to claim the sky with your very own airships; and assist Lady Jane Faithful in her quest to find her Husband, Sir John, and his lost expedition to the Northwest Passage...
New Content
New Region - Conquer the Arctic's extreme conditions with new residents and production chains
New Story - Look for the Lost Expedition alongside new and familiar characters, like Lady Faithful, Old Nate, and the Inuit shaman Qumaq.
Airships - Construct your own airships and be the first to rise above your competitors!
Gas-Fired Power Plant - Light up your metropolis with a much more efficient gas-fired power plant that doesn't require a railway connection!
Trailer