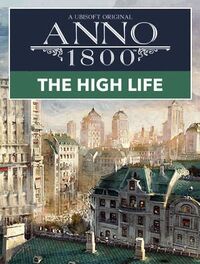 The High Life is the tenth Anno 1800 DLC and was released on the 31st of August 2021. It is the third DLC of the Season 3 Pass. It adds modular skyscrapers which house engineers and investors who developed more sophisticated needs, satisfied by new goods and shopping arcades. It also adds a new monument called the Skyline Tower which can be a home for hundreds of investors.
Content of the DLC
Skyscrapers - engineer and investor skyscrapers which possess new needs
New goods and production chains -

Elevators

, Cinnamon, Citrus, Camphor Wax, Coconut Oil,

Cherry Wood

,

Resin

,

Ethanol

,

Celluloid

,

Lacquer

,

Chewing Gum

,

Biscuits

,

Cognac

,

Typewriters

,

Billiard Tables

,

Violins

and

Toys

New monument - Skyline Tower
A set of 10 new ornaments
New story quests tied to the skyscrapers and construction of the new monument
Official description
Live the high life with towering new skyscrapers and their panoramas! Get your residents to dip their hands into their pockets with shopping arcades! Sell products created from homeware, furniture and pharmacy patents developed by you! But be sure to save some downtown real estate for the whopping Skyline Tower monument, inspired by Chicago and Manhattan - Anno's highest ever structure!
New Content
Skyscrapers - Build towering skyscrapers for your elite engineers and investors.
Shopping Arcades - Sell new patented products in fancy malls that cater to the latest high-end trends.
New Production Chains - New factories and new goods in both the Old World and New World.
The Skyline Tower - Leaning against the clouds, the imposing Skyline Tower is the ultimate ambition of every great industrialist.
Up, Up, And Away! - A host of lighter-than-air new ornaments to really give your city a lift!
Trailer