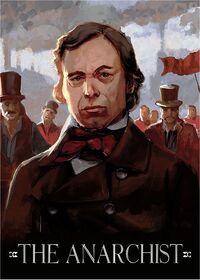 The Anarchist is the first Anno 1800 DLC and was released on June 5, 2019. It is a part of Deluxe and Pioneer Editions of the game. It adds a new AI opponent Dr. Hugo Mercier who can be selected as an AI opponent at the start of a new game, a new defection system, new quests, ornaments and items related to anarchy.
Official description
Meet Dr. Hugo Mercier, the Anarchist. Will he antagonise you, or become your greatest ally? Discover his unique approach to leadership as you get to know him through his exclusive quest line, and advocate for anarchy using his new propaganda articles and items. But beware - there are many downsides to anarchy spreading into your cities...
New Content
New Opponent - Will Dr. Hugo Mercier become your most dreaded rival, or an enlightening ally?
New Quests - Experience over 50 new quests.
New Items - Discover over 50 new items.
New Unlockable Portrait - Unlock Dr. Mercier's portrait through Uplay.