GTA: The Criminal Enterprises - The Loop
Play Sound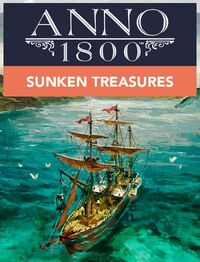 Sunken Treasures is the second Anno 1800 DLC that was released on July 30, 2019. It is the first DLC of the Season 1 Pass. It adds a new European session: Cape Trelawney which contains several islands including a big continental island Crown Falls, a new neutral trader Old Nate and comes with a new storyline, separate from the campaign. The DLC also contains new quests, items and new features such as crafting and diving.
Content of the DLC
The main addition of Sunken Treasures DLC is a new region, Cape Trelawney, unlocked after completing an expedition available once you have 700
Artisans. It is a second Old World region and consists of several islands with temperate climate. One of them is unique, it is a big continental island located in the northern part of the region, named Crown Falls by The Queen. Gameplay in this region, including available population, buildings, goods, resources and fertilities etc., is the same as in case of Old World.
The DLC includes a storyline which involves exploring the story about the Battle of Trelawney and retrieving a precious artefact that has been lost in the ocean during the battle. Following The Queen's orders it is necessary to find and follow clues regarding artefact's whereabouts. Separately from those duties, The Queen also wants her capital city to be build on Crown Falls and has specific requirements which have to be met. The storyline and the quests are available only in single-player campaign or sandbox, not available in multiplayer.
Soon after settling on Crown Falls it is necessary to ask for help from an eccentric inventor, Old Nate, who turned one of the small islands into his own workshop, where he can peacefully focus on his inventions. For a reasonable sum of money he offers his latest invention, a salvager, a ship equipped with a diving bell which is capable of retrieving various treasures from depths of the ocean. When diving for treasures it is also possible to obtain scrap, which Old Nate can turn into various useful items which can be used to improve your cities and ships.
Overall the DLC adds the following elements:
Cape Trelawney - new Old World region, which includes a unique large continental island, Crown Falls
A new storyline focused on learning about Battle of Trelawney and retrieving a precious artefact from the ocean
A set of quests from The Queen wanting to build a capital city on Crown Falls
Three types of scrap and various items created from them at Old Nate's workshop
Official description
Follow the Queen to Cape Trelawney; a new session with an immense continental island. Remarkable treasures are said to be buried in these waters - the remnants of a great sea battle. You're going to need a diving bell to get them - the newest invention of Old Nate, a nearby drifter. He'll also help turn any rubbish you find into inventions to fuel the growth of your territorial capital!
New Content
New Region - Explore and settle in a new session, with multiple islands and one vast continental island.
New Story - Explore the story of the Battle of Trelawney, and meet two new characters: Old Nate and Vasco Oliveira.
Crazy New Inventions - Craft inventive new items at Old Nate's island with scrap you find.
Diving Bell - Use your new diving bell to recover shiny sunken treasures.
Trailer
 	 	   

DLCs
Season 1

 Sunken Treasures

•

 Botanica

•

 The Passage

Season 2
Season 3
Season 4

 Seeds of Change

Content Packs