Ships are an essential part of Anno 1800 and the backbone of both the trading and warfare systems in the game.
Gameplay
Obtaining ships
Ships can be produced in shipyards or bought from other factions. Players need a trading agreement to be able to buy ships from others. The ships up for sale depend on the amount of citizens players have. If the population on their islands is high enough, they can buy certain ships earlier than they could otherwise have built for themselves.
Pirates sometimes have special ships for sale that can't be obtained in any other way. Pirate ships typically are slightly modified versions that are slightly better in combat than the regular versions.
Transporting cargo
A ship typically has one or more cargo holds, each able to contain up to 50 tons of a single type of good at a time (the only exception to this being the Oil Tanker, which can transport up to 400 tons of oil). Ships can also carry items in their cargo holds, but by equipping them in specialized item slots, the ship will make use of their special effects. Ships can only equip Ship Items, with some of them only available for military ships.
Settling islands
Any ship can build a Warehouse on an unsettled island if it has the required building materials on board (10

and 8

) and if the player has enough Influence. If the ship moves in range of an empty coast, the blueprint for a Trading Post will appear. Clicking on it and then on the "build" button in the menu that comes up, will construct the Trading Post. All goods that were on the ship will automatically be transferred onto the island. How much Influence is needed to settle an island, island depends on the island's size.
Wind direction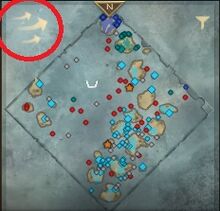 Sailing ships have to consider wind direction. If a ship sails against the wind, its speed is greatly reduced, whereas if it sails with the wind in its back, it will get a boost. Steam ships aren't affected by wind direction, and the Flagship, being a hybrid, is less affected by wind than other sailing ships. You can check the wind direction by looking at the arrows in the top-left corner of the minimap.
Naval warfare in Anno 1800 can play an integral part in the game depending on player's preferences. Although the focus of the Anno series is to build an empire based on strong economy and trade, warfare can work to the player's advantage in securing vital resources as well as forging diplomatic relations with the AI. With this in mind, various types of warships are obtainable at different stages in the game making warfare a viable option for the player.
Each naval ship type has its advantages and disadvantages in naval combat depending on its parameters. Some of these parameters are weapon range, hit points, weapon accuracy, firepower, and the aiming direction of the weapons. E.g. a ship-of-the-line has more firepower than a battle cruiser, but the weapons of a battle cruiser possess a longer range and are more accurate. Consequently, in most situations, a battle cruiser will win a one-on-one sea battle against a ship-of-the-line due to its superior range. However, if a ship-of-the-line can get close enough to a battle cruiser, then the odds can turn in its favor and the battle cruiser may go down in defeat.
Trade Routes
For more details see: trade routes
Expeditions
For more details see: expeditions
Statistics and ship comparison
Construction and upkeep costs
Icon

Ship type
Description
Constr.

Cost/Time

Prerequisite or Vendor
Purchase/Sell Value
Upkeep Cost

Sail ships

Schooner

Two-masted trade ship with a medium sized cargo hold.
20
10
03:00
150Workers

Sold by Blake and Sarmento

5000

−15
1
Gunboat

Very fast, one-masted military ship with a small cargo hold. Armed with a front howitzer, though not the sturdiest.
10
20
7
03:00
150Workers

Sold by Blake and Sarmento

12500

−25
2
Frigate

Fast, three-masted military ship with a medium sized cargo hold. Armed with side cannons.
40
20
15
06:00
1Artisan

Sold by Blake and Sarmento

20000

−100
4
Clipper

Fast, four-masted trade ship with an increased cargo hold.
40
30
06:00
750Artisans

Sold by Blake and Sarmento

15000

−175
2
Ship-of-the-line

Slow, four-masted military ship with a medium sized cargo hold. Armed with side cannons.
60
30
30
12:00
750Artisans

Sold by Blake and Sarmento

50000

−250
8

Steam ships

Cargo Ship

A sturdy and reliable trade ship, with a large cargo capacity.
20
20
09:00
500 Engineers

Sold by Blake and Sarmento

300000

−500
3
Battle Cruiser

A slow but powerful military ship, armed with advanced turrets designed for long range attacks.
60
20
25
15:00
500 Engineers

Sold by Blake and Sarmento

800000

−850
12
Monitor

A heavily armored steam-powered military ship capable to carry a low amount of cargo. Armed with a heavy mid-range turret.
40
10
10
12:00
1 Investor

Sold by Blake and Sarmento

350000

−300
6
Oil Tanker

Designed and built to carry oil barrels, and nothing else.
20
20
09:00
500 Engineers

Sold by Blake

300000

−500
5
World-Class Reefer

The swiftest ship to ever ply the international trade, fording great distances in record time.
45
25
14:00
500 Engineers

Reaching the highest exporter level with any good and completing a questline

Requires Docklands DLC

450000

−750
6
Hybrids
Flagship
Hybrid steam and sail ship, useful in any situation.
Cannot be constructed
150 Workers or previous Flagship sunk

Sold by Blake and Sarmento

5000
Cannot be sold

0
0
Airships
Airship

A trading vessel that flies! Very fast and suitable for long-distance trades, but high cost and 'only' 4 cargo slots. Cannot be attacked. Content from The Passage DLC
25
50
25
40
15:00
750 Technicians


650000

−1200
4
Special ships
Extravaganza Steamer

Larger, more durable Cargo ship with an extra item hold.
20
20
09:00
Specialist:
Anna Union

Sold by Pirates

500000

−100
6
Pirate Gunboat

Pirate version of the classic Gunboat with increased speed and dps.
10
20
7
03:00
Specialist:
Gideon Small

Sold by Pirates

25000

−25
2
Pirate Frigate

Pirate version of the classic Frigate with increased speed and dps.
40
20
15
06:00
Specialist:
Petra Piper

Sold by Pirates

40000

−100
4
Pirate Ship-of-the-line

Pirate version of the classic Ship of the Line with increased speed and dps.
60
30
30
12:00
Specialist:
Shih Yang

Sold by Pirates

100000

−250
8
Royal Ship-of-the-line

Royal version of the classic Ship of the Line with increased damage and durability.
60
30
30
12:00
Specialist:
Sir Milfoy Credenza-Belfry-Guscott

Sold by Pirates

100000

−250
8
Pirate Monitor

Pirate version of the classic Monitor with increased speed and dps.
40
10
10
12:00
Specialist:
Maria Pizarro

Sold by Pirates

500000

−600
6
Pyrphorian Monitor

40
10
10
12:00
Specialist:
Stilton Snood

Sold by Pirates

500000

−600
6
Pyrphorian Warship

50
15
15
12:00
Specialist:
Slinky Sinistra

Sold by Pirates

700000

−800
9
Pyrphorian Battle Cruiser

60
20
25
15:00
Specialist:
Suspicia Slyhood

Sold by Pirates

1200000

−1000
12
Great Eastern

Legendary Trade Ship with 8 cargo slots
1 Permit
60
30
18:00
Quest after first World's Fair,
Aquired from Sir Archibald Blake
Alternatively: Research

750000

−1000
10
Salvager

Content from Sunken Treasures DLC
Cannot be constructed
Aquired from Old Nate

5000
Cannot be sold

N/A
Ships statistics
Icon

Ship type
Cargo/Item slots
Hitpoints
Dmg per shot

(per second)

Attack Range
Speed
Navigation/

Naval Power

Sail ships

Schooner
2/1
1000
-
-
4.4-15.8
20/0
Gunboat
1/2
850
105 (21)
40
4.0-18.0
20/10
Frigate
3/2
2000
140 (28)
55
4,2-18.7
10/20
Clipper
4/1
2500
-
-
5.5-19.8
20/0
Ship-of-the-line
3/3
4000
525 (53)
68
3.2-14.4
0/50

Steam ships

Cargo Ship
6/2
4000
-
-
10.4
20/0
Battle Cruiser
3/4
6000
280 (40)
84
9.0
0/70
Monitor
2/2
3000
93 (31)
48
10.6
20/30
Oil Tanker
1(400t for oil)/0
5000
-
-
9.0
0/0
World-Class Reefer
6/1
5000
-
-
11.0
20/0

Hybrids

Flagship
3/2
2000
175 (44)
55
8.0-18.0
15/20
Airships
Airship
4/2
1200
-
-
9.4-32.8
?/0
Special ships
Extravaganza Steamer
6/3
5000
-
-
10.4
20/0
Pirate Gunboat
1/2
850
105 (26)
40
4.8-21.6
20/10
Pirate Frigate
3/2
2000
140 (35)
55
5.0-22.5
10/20
Pirate Ship-of-the-line
3/3
4000
525 (70)
68
3.8-17.3
0/50
Royal Ship-of-the-line
3/3
5000
650 (65)
68
3.2-14.4
0/50
Pirate Monitor
2/2
3000
93 (39)
48
12.7
20/30
Pyrphorian Monitor
2/2
5000
55 (37)
24
10.6
20/30
Pyrphorian Warship
2/2
6000
45 (45)
33
10.6
20/30
Pyrphorian Battle Cruiser
3/4
8000
145 (50)
42
9.0
0/70
Great Eastern
8/3
6500
-
-
11.0
20/0
Salvager
6/3
4000
-
-
10.6
10/0
Ships
Sail ships

Schooner

•

Gunboat

•

Frigate

•

Clipper

•

Ship-of-the-line

Steam ships
Hybrids

Flagship

Airships

Airship

Special ships