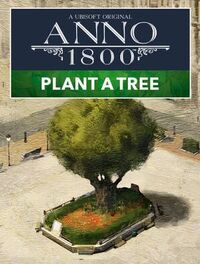 Plant a Tree DLC is a special but small cosmetic DLC, it was released on December 14, 2021. It adds one ornament based on ceiba tree, which is present on La Xultuna in Eden Burning scenario. The revenue from this DLC, after taxes and other fees, is forwarded straight to Ecologi, a social enterprise which goal is to stop the climate change.
The added ornament is called Eden Burning Ceiba Tree and is available in the Special Ornaments tab, costs 100

and has the size of 3x4 tiles.
Official description
Contribute to real-world reforestation efforts by purchasing the Plant a Tree DLC. This DLC contains the ceiba tree from La Xultuna, which you can plant in any of your cities. When you buy the Plant a Tree DLC, Ubisoft will forward at least $1/1€/£1 from each purchase to Ecologi, a social enterprise focused on carbon reduction initiatives. All net proceeds go to Ecologi.
New Content