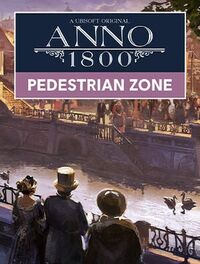 Pedestrian Zone is the fifth Anno 1800 cosmetic DLC, it was released on September 28, 2021. It adds 18 new ornaments.
Official description
The Pedestrian Zone Pack gives you the chance to build beautiful canals throughout your city, and provide your pedestrians with all the amenities they could ever ask for, from pavilions to public toilets!
New Content
Pedestrian Zone Entrance Gate
Pedestrian Bridge
Archways (3 total: one with a lamp, one with flags, one with a clock)
Underpass
Underground Toilet
Toilet House
Market Hall
Pavillon
City Canals (consisting of multiple elements)
Sewer Canals (consisting of multiple elements)
Canal Bridges (a small, a medium and a large one)
Groundplanes
Enclosed Tree
Enclosed Greenery