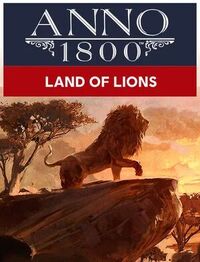 Land of Lions is the seventh Anno 1800 DLC and was released on October 22nd, 2020. It is the third DLC of the Season 2 Pass. It adds:
Official description
Venture to the Land of Lions, a roaring southern continent whose people use irrigation to help supply a whole new set of needs! Meet a local Emperor who has faith his empire can be a match for any other.
New Content
A Budding Empire - Help Emperor Ketema bring stability to Enbesa from its new capital Taborime. Fend off threats from within and without to bring peace and prosperity to the region. Discover Enbesa's rich history, and benefit from this knowledge with new bonuses.
Harness The Power Of Water - Construct a brand new canal system to irrigate the fields! Fulfill the needs of the shepherds and elders of Enbesa, achieve new economic heights, and watch the desert bloom!
Construct A Monument To Knowledge - Build the new Research Institute in the Old World, and discover new technologies indistinguishable from magic. Turn soil fertile, produce goods from alternative resources, and find the exact specialist or machines you need!
A New Class Of Thinkers - Bring scholars to the Old World from all around the world! Fulfill their cosmopolitan needs so that, alongside your engineers, they may fuel scientific progress!
Campaign
Land of Lions DLC adds a new singleplayer main storyline quest campaign. It starts shortly after reaching 100 Artisans in the

The Old World region. Upon reaching the new
Enbesa region the player is introduced to Emperor Ketema who continues the main story quest campaign for the region, during which they are introduced to the residents of three side story islands, each of which has their own quest chain. The following pages contain lists of quests that can be offered and decisions that must be made as part of those quest chains:
Main storyline:
Side storylines:
Making certain decisions within each island's story quest chain can provide the player with permanent region-wide buffs (see individual storyline pages for full story walkthroughs and rewards).
The story campaign does not occur in multiplayer games, but the players can still trade with Emperor Ketema's harbor.
Trailer
Community content is available under
CC-BY-SA
unless otherwise noted.