GTA: The Criminal Enterprises - The Loop
Play Sound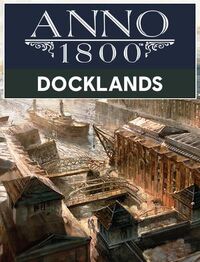 Docklands is the eighth Anno 1800 DLC and was released on February 23, 2021. It is the first DLC of the Season 3 Pass. It adds a modular harbour building Docklands which allows you to optimise your harbour and exchange goods with overseas traders via the Export/Import feature. It also adds a new ship World-Class Reefer and a set of ornaments which you can use to beautify your harbour area.
Content of the DLC
The main addition of Docklands DLC is the modular harbour building Docklands, which you can construct after attracting 250
Artisans. It consists of the main building Docklands Main Wharf and various modules which can improve different aspects of your harbour - increase the storage capacity, increase loading speed etc. If you connect all modules to the main building, you can also get a significant attractiveness bonus.
Docklands also enable the export/import feature, which allows to export any goods to import several selected types of goods in exchange. Exporting goods increases the limit of modules that can be built at the Docklands, and also can increase the exchange value of the goods you chose to export. Using Docklands you can overproduce some goods in order to obtain other goods which you underproduce or don't produce at all.
After exporting several thousands tons of one good, you will get a short set of quests which reward you with a harbourmaster's office item that will let you build a new trade ship - World-Class Reefer.
The DLC also gives you access to 25 new ornaments which can be placed in harbour areas.
Overall the DLC adds the following elements:
Official description
Bring global commerce to your city by constructing an iconic an elaborate harbour complex - a sprawl of bustling quays and warehouses. Customise its unique look and optimise the focus of your economy, exporting your lucrative production surplus to the world. Establish a reputation in exports, and become a market leader!
New Content
Monumental Docklands - Overhaul your harbour, and make a name for yourself in the business of global exports with the "docklands" - a magnificent sprawl of shoreside warehouses.
Optimise Your Playstyle - Tailor the look and function of your "docklands" with modular maritime offices, each offering a variety of logistical advantages.
Nostalgic Beauty - Revamp your harbours, and fill the new space with a raft of memorable new maritime ornaments.
Lead The Market - Pinpoint your favourite goods and export them to your contacts overseas, becoming the market leader of your sector.
Trailer
 	 	   

DLCs
Season 1
Season 2
Season 3

 Docklands

•

 Tourist Season

•

 The High Life

Season 4

 Seeds of Change

Content Packs