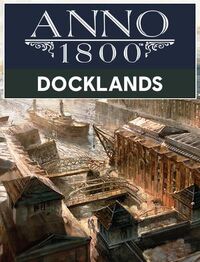 Docklands is the eighth Anno 1800 DLC and was released on February 23, 2021. It is the first DLC of the Season 3 Pass. It adds a modular harbour building Docklands which allows you to optimise your harbour and exchange goods with overseas traders via the Export/Import feature. It also adds a set of ornaments which you can use to beautify your harbour area.
Official description
Bring global commerce to your city by constructing an iconic an elaborate harbour complex - a sprawl of bustling quays and warehouses. Customise its unique look and optimise the focus of your economy, exporting your lucrative production surplus to the world. Establish a reputation in exports, and become a market leader!
New Content
Monumental Docklands - Overhaul your harbour, and make a name for yourself in the business of global exports with the "docklands" - a magnificent sprawl of shoreside warehouses.
Optimise Your Playstyle - Tailor the look and function of your "docklands" with modular maritime offices, each offering a variety of logistical advantages.
Nostalgic Beauty - Revamp your harbours, and fill the new space with a raft of memorable new maritime ornaments.
Lead The Market - Pinpoint your favourite goods and export them to your contacts overseas, becoming the market leader of your sector.
Trailer